WHY JOHOR LANDED HOUSES FROM RM300K to RM500K ARE THE BEST BUY IN WHOLE OF MALAYSIA, Calvin Tan Research
I say "JOHOR LANDED HOUSES" From Rm300K to Rm500k are Best Buy  (Not Highrise Condos as there is a glut now.)
Why Only Landed Houses & Not High Rise Condo?
Answer:
When you build a landed single or double storey house on the land you can only sell once. But if you build up 30 storey tall you could sell it 30 times on the same piece of land.
So selling Condos make an awful lots more money than selling a single storey landed house. No wonder there is a scarcity of landed houses in Johor JB  City. All are building high rise condos to maximise profit. Now that there is a huge glut of Condos in contrast to too little affordable landed houses in Johor Down Town
Another BIG REASON WHY JOHOR HOUSES ARE GOOD VALUE BUY IS DUE TO THE LONG YEARS OF DOWN TURN BEFORE PRICES ACTUALLY REBOUNDED
See the Chart below. After the Asian Financial crisis of 1997/8 all Kl, Penang, Selangor & other houses rebounded in Prices Johor House Price continued to languish for 12 long years till year 2009 before joining the upcycle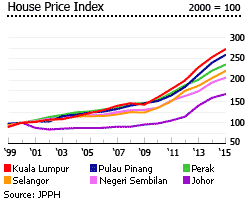 See
Johor house price index upturn only started in year 2009/10 while others shot up by year 2,000
As Johor is 9 year late in the cycle so Johor still has room to move up – especially for Landed Houses in good location
And more factors which I posted earlier
See
What else?
LANDED HOUSES IN BOOMING ISKANDAR
WHY LANDED HOUSES IN BOOMING ISKANDAR AND NOT OTHER PARTS OF MALAYSIA?
ANSWER:
REASON NO. 1
HIGH PAYING JOBS FROM JOHOREANS WORKING IN SINGAPORE
1/3 OF THE JB ECONOMY DEPENDS ON SINGAPORE. AND THE PURCHASING POWER OF THESE WORKERS IN SINGAPORE STAYING IN JB HAVE 3 TIMES THE PURCHASING POWER AS ONE SING DOLLAR IS WORTH RM3.00
REASON NO. 2
JOHOR SINGLE STOREY HOUSES AND DOUBLE STOREY HOUSES ARE STILL VERY CHEAP IN COMPARISON TO THOSE SIMILAR ONES OF KL AND PENANG OR EVEN SELANGOR
SO WHILE THE PEOPLE OF JOHOR ARE BENEFITTING FROM A VERY STRONG CURRENCY BOOST THE HOUSE PRICES ARE SO INEXPENSIVE
THEREFORE PRICES MUST RISE TO MATCH THOSE OF KL OR PENANG ONE DAY
TO BUY NOW IS TO LOCK INTO DEEP VALUE (ESPECIALLY THOSE PRICED BETWEEN RM300K TO RM500K IN THE SECONDARY MARKET)
REASON NO. 3
THE RENT OF A HDB ROOM IN SINGAPORE IS S$500 TO $600 OR RM1,500 TO RM1,800 FOR A SMALL ROOM IN AN ORDINARY FLAT WITHOUT SECURITY OR SWIMMING POOL
IN JB YOU CAN GET A  WHOLE HOUSE WITH 3 ROOMS FOR RM1,000. SO DEMAND IN JB IS HOT HOT.
REASON NO.4
THOSE LANDED FREEHOLD HOUSES IN JB (AVOID ALL HIGH RISE CONDOS IN JB AS THERE IS A GLUT) ARE LITERAL GOLD MINES
LAND IS NOW VERY SCARCE IN JB DOWNTOWN. SO THOSE HOUSES (LANDED) ARE GOING TO BE LIKE THE ONES IN BANGSAR. WILL ONLY GO UP AND UP FOR MANY YEARS TO COME.
REASON NO. 5
OVER IN SINGAPORE MANY HDB FLATS ARE NOW CROSSING THE 50TH YEAR THRESHOLD…. THOSE IN TIONG BAHRU, REDHILL, ANG MO KIO, TOA PAYOH, MARINE PARADE NOW 40 TO 50 YEARS OLD WILL SEE GRADUAL DEPRECIATION TILL THEY LOSE ALL THEIR CAPITAL. AND BANKS WILL NO LONGER LEND TO THESE HDB FLATS BUYERS ONCE LEASE REMAIN LESS THAN 30 YEARS. AND ONCE EXPIRED LIKE THOSE IN GEYLANG THEY BECOME WORTHLESS AS LAND WILL BE SURRENDERED TO THE SINGAPORE GOVT.
IN SINGAPORE ALMOST EVERYTHING IS LEASEHOLD
ALL CARS, VANS, JEEPS, BUS AND LORRIES AND EVEN MOTOR BIKES HAVE A 10 YEAR LEASE.  WHEN 10 YEAR LEASE IS UP ALL THESE VEHICLES WILL BE SCRAPPED UNLESS YOU BUY ANOTHER 10 YEAR COE (CERIFICATES OF ENTITLEMENTS) WHICH COST RM90,000 (S$30K) JUST FOR THE PAPER ALONE.
SO ARE GOVT HDB FLATS OR LOW COST HOUSES OR EVEN EC (GOVT CONDOS). ALL HAVE ONLY LEASEHOLD LIFESPANS
IN ANOTHER 5 TO 10 YEARS TIME WHEN SINGAPOREANS WAKE UP TO SEE TOTAL LOSS OF VALUE IN THESE LEASEHOLD ASSETS THERE WILL BE A MAD SCRAMBLE INTO FREEHOLD ASSETS
AND ALL THESE HOUSES WITH FREEHOLD TITLES IN JB WILL BE IN HOT HOT DEMAND
THE TRICK IS TO BUY NOW
REASON NO. 6
THE CUMULATIVE FDI (FOREIGN DIRECT INVESTMENTS) IN JOHOR IS A MIND BOGGLING RM350 BILLIONS
VS HAS A BIG FACTORY IN SENAI EXPORTING CORDLESS VACUUM CLEANER TO THE WHOLE WORLD
SO THERE WILL BE GOOD JOBS IN JB FOR YEARS TO COME
REASON NO. 7
WITH THE HIGH COST OF LIVING IN SINGAPORE PLUS AN AGEING POPULATION EXPECT AN INCREASING NUMBER OF SINGAPOREANS TO RETIRE IN JB – THUS PUSHING UP THE VALUE OF JB ASSETS
SO THERE YOU ARE. JB LANDED HOUSES ARE REAL TSUNAMI SHELTERED ROCK SOLID INVESTMENTS
AND MORE SO BECAUSE JOHOR IS FREE FROM EARTHQUAKE, TYPHOON OR TSUNAMI
AS DISASTER AFTER DISASTER STRIKE THE WORLD MORE AND MORE JAPANESE, INDONESIANS AND EVEN SINGAPOREANS WILL MIGRATE TO BOOMING ISKANDAR
WARM REGARDS
Calvin Tan Research
Singapore