STRONG RINGGIT & STRONG CRUDE OIL: AVOID WHAT & BUY WHAT? (Calvin Tan Research)
Dear Friends/ Fellow Investors of I3 Forum,
Today 2 New Records Are Broken
1) BANK NEGARA HAS RAISED INTEREST RATE BY 0.25 POINT
2) BRENT CRUDE OIL HAS SMASHED THE USD71 BARRIER 
WHAT ARE THE IMPLICATIONS & THE RAMIFICATIONS AHEAD OF US?
THESE ARE SOME FINDINGS
ONE) RINGGIT.
THE RINGGIT IS ONE OF THE MOST UNDERVALUE CURRENCY IN THE WORLD TODAY. SINGAPOREANS HAPPILY LINE UP TO BUY THE BEST BARGAINS ON PLANET EARTH – THE MALAYSIAN RINGGIT: AT ITS BEST  WAS ONE SING DOLLAR FOR RM3.10 RINGGIT!!!
NOW THE THREE RINGGIT BARRIER HAS FINALLY BROKEN!!  IN COMING DAYS EXPECT THE RINGGIT TO STRENGTHEN FURTHER.
AND WITH THIS IN VIEW RIGHT NOW! IN THE CONFERENCE HALLS OF FOREIGN SHORES – EM FUND MANAGERS ARE DISCUSSING THEIR NEXT MOVE BACK INTO MALAYSIA!! SO EXPECT A FLOOD OF LIQUIDITY TO COME BACK TO MALAYSIA AS THE RINGGIT WILL CONTINUE TO RISE AND RISE AGAINST ALL OTHER FOREIGN CURRENCIES!
TWO) CRUDE OIL
THIS WILL ALSO CONTINUE TO RISE FOR THE FOLLOWING FACTORS:
1) IPO OF ARAMCO (USD 2 TRILLIONS)
Saudi Arabia wants Strong Crude Oil for Its Upcoming IPO (Almost Rm8 Trilliions and getting less by the day). So Saudi will continue to hold back Oil Production together with OPEC
2) SAUDI ROPED IN RUSSIA'S PUTIN (ANOTHER OIL POWER)
Now they have agreed to hold back Surplus Oil
See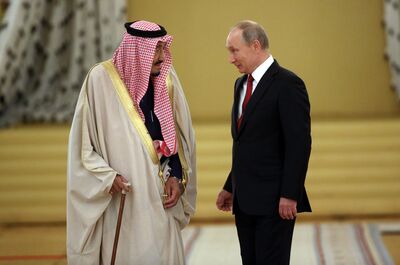 3) EUROPE BY VIRTUE OF ITS BANNING PALM OIL AS BIOFUEL WILL NEED TO USE MORE CRUDE OIL
With the banning of Palm Oil EU NATIONS WILL USE LOTS MORE PURE CRUDE OIL. A WHOLE LOT OF OIL FROM NORTH SEA WILL BE NEEDED… AND MORE….
4) USD1 TRILLIONS FOR USA INFRASTRUCTURE
In his Election Speech Donald Trump promised to spend USD1 TRILLIONS (NOW 3.88 TRILLIONS)
AND LOTS OF OIL (BOTH SHALE OIL & CRUDE OIL WILL BE NEEDED)
5) WITH THE PRICE WAR BETWEEN SAUDI (OPEC) AND SHALE OIL COWBOYS LOTS OF OIL COMPANIES GONE OUT OF BUSINESS (EXAMPLES ARE EZRA IN SINGAPORE
SEE THESE HEADLINES
Singapore-listed Nam Cheong is another Malaysian oil and gas casualty
PETALING JAYA – Nam Cheong Group Bhd is the latest company that is unable to service its debts due to the prolonged downturn in the oil and gas (O&G) industry.
Bankrupt: Singapore's Ezra Holdings Files Chapter 11
by Tom Hals (Bloomberg) Oilfield services firm Ezra Holdings Ltd (EZRA.SI) of Singapore filed for U.S. Chapter 11 bankruptcy on Saturday, blaming a prolonged slump in the energy industry.
Swiber Falls into Liquidation, Directors Resign
Singapore-listed EPCI contractor, Swiber Holdings, has filed an application to wind up the company, after receiving close to $26 million in 'letters of demand' from its creditors earlier this month.
SO REPEATED ALL OVER THE WORLD LOTS OF GUYS HAVE GONE BANKRUPT ONE BY ONE GONE OUT OF BUSINESS FOR GOOD & CEASED TO EXIST.
6) CHINA ONE BELT ONE ROAD NEEDS LOTS OF CRUDE OIL
SEE EDL, HSR, PULAU MELAKA GATEWAY, KUANTAN PORT & OTHER PORTS NEED LOTS OF ENERGY FOR INFRAR IN MALAYSIA
REPEATED IN THE WHOLE MARITIME SILK ROUTE LOTS OF CRUDE OIL IS NEEDED.
7) RISE OF PETROL GUZZLERS DUE TO CHEAP OIL
WITH THE FLOOD OF CHEAP OIL ALL NATIONS HAVE TURNED TO SUVS, MPVS, 4X4 PICKUPS AND OTHER BIG CARS
SEE HOW FEW KANCILS ARE THERE ON MALAYSIAN ROADS. HOW MANY ARE SUVS, MPVS, CRVS & HIGHER CC CARS IN MALAYSIA. THIS SYNCHRONISED GROWTH OF PETROL GUZZLERS ARE GOBBLING UP LOTS AND LOTS OF CRUDE OIL EACH DAY. NO WONDER HENGYUAN AND PETRON AND PETRONAS & TENAGA ARE MAKING OBSCENCE TONNES OF MONIES…
THAT IS THE SHOCKING TRUTH THAT SO MUCH OIL IS NEEDED
WHERE GOT ENOUGH?
SO WILL CRUDE OIL RISE UP FROM USD71 TO USD80?
THEN FROM USD80 TO USD100?
NO ONE KNOWS FOR SURE. AS LONG AS ARAMCO IPO IS YET TO COME. EXPECT OIL TO RALLY MORE!!
SEE
SO WHAT SHOULD YOU DO?  BETTER SELL OFF PLASTIC RELATED STOCKS AS COSTS FROM RESIN WILL GO UP, LOGISTIC STOCKS AND PETROL WILL GO UP,  EXPORT STOCKS AS STRONG RINGGIT WILL EAT UP PROFITS  AND  BUY OIL & GAS STOCKS
WHICH OIL & GAS STOCKS?  CALVIN TOP PICK IS CARIMIN. WHY CARIMIN? SEE NEXT POST
REGARDS
FROM CALVIN TAN RESEARCH, SINGAPORE