MUI PROPERTY (3913) HIGH VALUE STOCK WITH POWERFUL GROWTH CATALYST, Calvin Tan Research
Dear Friends, Investors & Traders
(PLEASE TAKE NOTE: IF YOU OWN NETX (0020) SHARES PLEASE DON'T SELL TO BUY THIS MUIPROP (ALTHOUGH MUIPROP IS VERY GOOD WE BELIEVE NETX IS EXCEPTIONAL. SO DON'T NEED TO SELL NETX IN ORDER TO BUY MUIPROP. ONLY BUY MUIPROP IF YOU HAVE SPARE CASH)
By now Calvin has lots of friends from i3 forum as well as in Booming Iskandar
From time to time I get stock tips or advise from i3 forumers privately
One day One Friend whataspp to say he discovered that the Net Cash & Net Asset of Mui Prop is the price of MuiProp share price. The rest is all free. And he bought and bought until he found out that he is now in the Top 30 Shareholders of MuiProp (3913)
I was surprised & intrigued so I went to do a deeper look at Mui Prop.
From all angles: Value & Growth Prospects MuiProp look very undervalue & is also ripe for action after so long
Let me gladly share all my findings
And these are the salient factors
1) At 18 sen with NTA of 36 sen MuiProp Is selling at a 50% Discount which qualifies as a Margin of Safety Stock
But like all other real estate stocks now most are also selling at huge discount to Net Asset.
So what is so special about MuiProp? That will be the next question
2) MuiProp is not just a Property Stock. Mui Prop like Pm Corp also has Lots of Cash Plus Investments
In fact the latest quarter good result of Muiprop was derived from its Investments
Please go to MuiProp Annual Report, Qtr Report in Bursa Website with me and SEE
SUMMARY OF KEY FINANCIAL INFORMATION
30 Jun 2019


INDIVIDUAL PERIOD
CUMULATIVE PERIOD
CURRENT YEAR QUARTER
PRECEDING YEAR
CORRESPONDING
QUARTER
CURRENT YEAR TO DATE
PRECEDING YEAR
CORRESPONDING
PERIOD
30 Jun 2019
30 Jun 2018
30 Jun 2019
30 Jun 2018
$$'000
$$'000
$$'000
$$'000
1
Revenue
14,103
14,446
57,474
40,318
2
Profit/(loss) before tax
12,909
3,217
27,331
10,065
3
Profit/(loss) for the period
11,668
1,831
22,688
6,423
4
Profit/(loss) attributable to ordinary equity holders of the parent
10,404
618
17,085
2,712
5
Basic earnings/(loss) per share (Subunit)
1.40
0.08
2.31
0.37
6
Proposed/Declared dividend per share (Subunit)
0.00
0.00
0.00
0.00




AS AT END OF CURRENT QUARTER
AS AT PRECEDING FINANCIAL YEAR END
7
Net assets per share attributable to ordinary equity holders of the parent ($$)
0.3667
0.3399

Above result showed a jump of profit by 75% from last year qtr & NTA also increased from 33% to 36%
Look at Revenue: Revenue in fact decreased from Rm14.4 Millions to Rm14.1 Millions
SO IF REVENUE DECREASED HOW COME PROFIT COULD INCREASE?
FOR ANSWER LET US GO AND SEE INSIDE MUIPROP BALANCE SHEET
See Under Balance sheet
Exceptional items (refer Note A4)…………Rm 9,116,000
So here we are: There was an exceptional gain of Rm9.1 Millions
Financial Year Ended 30 June 2019 vs Financial Year Ended 30 June 2018
For the financial year ended 30 June 2019, the Group recorded revenue of RM57.5 million compared with revenue of RM40.3 million in the previous financial year. Higher revenue for the financial year ended 30 June 2019 was mainly attributed to higher percentage of completion of works from Phase E7-2 as compared to Phase E7-1 and E8 in Bandar Springhill in the previous financial year. Higher PBT of RM27.3 million recorded for the financial year ended 30 June 2019 was mainly due to the said higher revenue recognition, gain on disposal of investment properties of RM3.3 million and the recognition of fair value gain of RM9.3 million on investments.
From here we can SEE that MuiProp Investments brought in even better profits than its sale of houses in Bandar Springhill
3) SO MUIPROP HAS VALUE. WHAT ABOUT ITS GROWTH?
FOR THAT LET'S COMPILE ITS LATEST 4 QUARTERLY RESULTS
1) 1.4 sen
2) 0.14 sen
3) 0.23 sen
4) 0.46 sen
Total one year = 2.23 Sen
So it has 12.3% growth rate or a P/E of 8.07
But will it be Growing Faster With Extra Catalyst to Unlock Value?
YES!
THERE ARE VERY STRONG GROWTH PROSPECTS FOR MUIPROP GOING FORWARD
THIS IS WHY CALVIN GETS EXCITED OVER MUIPROP
Reason Number One
The Rise of CEO Andrew Khoo in Mui Group (taking over from his father Tan Sri Datuk Khoo Khay Peng)
Since taking office Andrew has been proactively revamping Mui Group for New Growth. He has given several interviews regarding his passion & vision
THIS IS THE MAIN REASON MUIPROP WILL SEE VERY GOOD TIMES AHEAD
Reason Number Two
MUI PROP CASH AND INVESTMENTS ALONE ARE EQUAL TO 19.9 SEN CASH VALUE!!
Amazing!
In MuiProp Balance sheet there is Rm69 Millions Cash
Another Rm78.8 Millions in Investments
Combined is Rm147.8 Millions or equivalent to 19.9 sen Cash Per share
That means that by paying 18 sen for MuiProp we are getting back 19.9 sen Cash per share (or extra 1.9 sen freee cash)
Plus All The Land Assets, Oversea Assets & Investment Properties Free
That is another 16.1 Sen per share!
But those Lands, Investment Assets & Over sea assets are still listed at Old Old Book Value
That brings us to Reason Number Three
MUIPROP ASSETS
How much are they?
Please go see Annual Report of MuiProp and go to Properties owned by Mui Prop
State of Negeri Sembilan Darul Khusus Balance of freehold land held for township development known as Bandar Springhill at Mukim of Jimah, District of Port Dickson, Negeri Sembilan Darul Khusus (Date of acquisition: January 1995)
Land area = 4,386,792 Sq meter
Rm 149,769,000
This is MuiProp Freehold LandBank in Bandar Springhill, Negeri Sembilan
4,386,792 sq meter has a Book Value of Rm149,769,000
Let's calculate its value per sq ft
First Convert 4,386, 792 from sq meter to sq feet by multiplying with 10.764
So = 47,219,429.08
Now divides Rm149,769,000 by 47,219,429.08 sq ft
= Rm3.17 Psf
YES! MUIPROP Bandar Springhill Lands have a Book Value of only Rm3.17 Psf
And these lands are well landscaped since year 1995 when labour and material cost were still cheap.
It takes anywhere from Rm20 psf to Rm30psf to do landscape alone for greenfield housing development today
Suppose it is wild jungle lands
You need to clear rocks, level hills, fill up depression, build drainage, build roads, lay infrar for pipes for water and utilities
All these add up. Bandar Springhill is a well planned Township
Hence it is very cheap to have such prime lands valued at such low price.
So anything MuiProp build here will have economy of scale and compete against other developers
Reason Number Three
Ha! Not only Calvin sees Value
See
17. Maybank Securities Nominees (Tempatan) Sdn Bhd –
Securities Account for Yu Kuan Huat ……………………………………………. 3,455,900 shares………………… 0.47%
YU KUAN HUAT THE BOSS OF YNH PROPERTY ALSO IN TOP 30 SHAREHOLDERS OF MUIPROP
It takes another Real Estate Developers to see and Invest in MuiProp shares. That speaks volumes!
Reason Number Four
BANDAR SPRINHILL IS LOCATED IN THE HEART OF GROWTH
North is the Malaysia Vision Valley (This is where Karambunai owns some leasehold lands) Calvin recommended Kbunai at 6 sen 3 years ago. After that Kbunai dropped half sen to 5.5 sen. And for just a loss of half sen some cry father and cry mother. At long last Kbunai Boss is taking it private at 11 sen for a chun chun 100% gain (That means 33% yield a year for 3 years, not bad)
NOW THE ECRL IS REALIGNED TO PASS THROUGH NILAI, Not Far From Bandar Springhill
THIS WILL UNLOCK VALUE FOR ALL LANDBANKS IN NENEGRI SEMBILAN INCLUDING BANDAR SPRINGHILL
BANDAR SRINGHILL IS ALSO LOCATED NEAR PORT DICKSON WHERE PM IN WAITING ANWAR IBRAHIM PROMISED TO REJUBEVATE THIS COASTAL TOWN FOR TOURISM
So from All Directions Growth has Arrived Bandar Springhill Doorsteps
Reason Number Five
To my delight CEO Andrew has strategised to build Affordable Houses which will sell like Hot cakes
When I visited Bandar Springhill some time ago I thought MuiProp should build more affordable houses here as there is great demand
How thrilled was I when I read theseThis article first appeared in City & Country, The Edge Malaysia Weekly, on September 23, 2019 – September 29, 2019.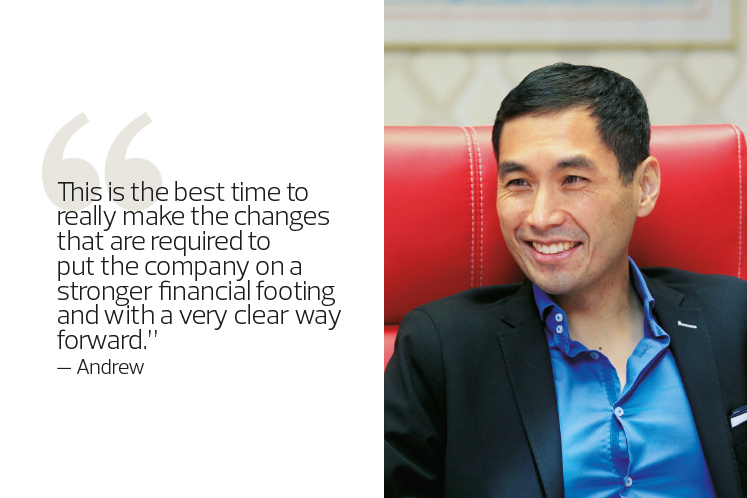 It has been almost a year since Andrew Khoo Boo Yeow took over the Malayan United Industries Bhd (MUI) empire of his father, Tan Sri Khoo Kay Peng.
With no time to waste, Andrew got down to business after taking up the reins. "The company is very diverse as we have many businesses, so I've been getting my hands dirty getting involved with all facets of the business," he quips.
"In a way, we're in the middle of a transformation journey. It takes a lot of focus, energy and clear thinking to be able to see this plan through. Most importantly, it needs the right people in place and it is about the transformation of the people we have in our business
While the biggest contributor to MUI is its hotel operations, followed by retail, the fastest growing and the one with the most profitable growth potential is its property business, says Andrew. "Going forward, we will put more focus on our property business."
Apart from new launches at its Bandar Springhill township in Port Dickson, Negeri Sembilan, the group will also be launching a new project in Seremban town and in Kota Kinabalu, Sabah.
Building on a solid market
In Seremban town centre, MUI plans to build an integrated development with a gross development value (GDV) of RM410 million. It will comprise 865 serviced apartments and 68 shopoffices over two 32-storey blocks on a site of about four acres that was acquired in 2005. The apartments, which will include dual-key units, will have built-ups of 550 to 1,050 sq ft and prices will range from RM250,000 to RM480,000.
"This project is right in the middle of the town centre and very close to transport links. There has been a lot of interest in Seremban lately and we feel that it may be the right time to put in a landmark development," says Andrew.
"Once again, our approach is to bring in quality living at affordable prices. Our market is very clear — we are targeting domestic buyers and we want to make it accessible to the younger generation with dual income. For Seremban, we think the sweet spot is properties priced around RM300,000.
New launches at Bandar Springhill
On Sept 28, MUI Properties Bhd's 60%-owned subsidiary, West Synergy Sdn Bhd, will be launching Phase 1 of a residential development at the 2,000-acre freehold Bandar Springhill. Incorporated in 1965, MUI Properties is a 74.32%-owned subsidiary of the group.
Phase 1, named Amarilis, will comprise 73 two-storey terraced houses. Meanwhile, Phase 2 — named Viola & Celosia — will tentatively be launched in 2Q2020 and comprise 272 two-storey terraced houses.
With a total GDV of RM125 million, Phases 1 and 2 span a combined 14.38 acres. Unit built-ups will range from 1,782 to 1,982 sq ft, with prices starting from RM331,000.
The terraced houses will have a contemporary design and come with a double-volume dining area. The residential enclave will have a green open field with a community playground while in its surroundings within the township are amenities such as the 20-acre Lake Park, the UCSI International School Springhill and a mosque. The developer is offering two years of free security maintenance.
Just like MUI's other businesses, its property business is being reinvigorated and seeing the results. "We are injecting lifestyle elements into Bandar Springhill and we are seeing a pick-up in take-ups and sales," says Andrew.
The group launches 250 to 300 residential units each year, and sales have been well over the 80% mark, he continues. "It was much slower before. [Sales have improved] due to a mix of different factors such as the right price points, very well-designed homes, quality living with added amenities and facilities — our products are very sellable.
"The designs have become more contemporary with fully utilised built-ups, so no major renovation is needed. We are also offering better streetscapes and landscapes in a gated-and-guarded community."
Andrew believes that the lifestyle factor is what customers want these days. "Apart from the clubhouse, we are going to have lakeside walking and cycling trails, children play zones as well as petrol stations, fast food outlets, restaurants, banks and ATMs. Bandar Springhill will be a complete community and township development."
Located towards the south of Seremban, Bandar Springhill has a total GDV of RM4 billion to RM5 billion. About 50% completed, the township has about 1,000 acres left to be developed, which translates into a GDV of RM3.5 billion to RM4 billion.
"We want to focus on affordable homes that are in the proximity of Kuala Lumpur and are still quality homes. People today want to see value. We want to make sure that we get the fundamentals and the design features right and build around that. Once we do all that, we will start to strengthen our marketing," says Andrew.
He adds that Negeri Sembilan is a growth corridor that is only 45 minutes away from Kuala Lumpur International Airport. "The whole area has a lot of growth potential and the state reportedly has the most number of affordable homes compared with Melaka, Johor, Penang and KL."
SO MUI PROP IS THE MOST PROFITABLE COMPANY IN MUI GROUP NOW
AND IT HAS A STRATEFY TO BUILD AND SELL MASS AFFORDABLE HOUSES
PRICED AROUND RM300,000 WITH GATED AND GUARDED CLUB HOUSE
ALSO BANDAR SPRINGHILL WILL BECOME A TOD (TRANSPORT ORIENTED DEVELOPMENT) THAT WILL SERVE PORT DICKSON, SEREMBAN AND AS FAR AS KL
Reason Number Six
BUT NUMBER SIX PRESENTS DYNAMISM OF SYNERGY AS BANDAR SPRINGHILL IS SURROUNDED BY RECESSION PROOF INDUSTRIES
1) HOSPITAL & INTERNTIONAL SCHOOL IS RECESSION PROOF
11) UCSI INTERNATIONAL SCHOOL IN BANDAR SPRINGHILL. NOTICE CALVIN'S FAVOURITE EAGLE IN FOREGROUND?
AND MORE
MILO IS RECESSION PROOF
THE BIGGEST MILO FACTORY IN THE WORLD IS LOCATED NEARBY
Rembau has Nestle's world's largest Milo manufacturing factory
Wednesday, 25 Sep 2019 07:14 PM MYT