ASIAOBIO BOSS BUYING SO MUCH NETX OVER ALL OTHERS SHOW GREAT POTENTIAL, Calvin Tan Research
Dear Friends, Investors & Traders,
Asiabio or Fintec is an Investment holding companies buying into Start-ups just like OSK-Vi did in early days
OSK-Vi nurtured several start up companies like Green packet and Mtouche which have emerged as successes over the years.
But Oskvi sold off Gpacket without realising it will turn into a success later
So is Asiabio. It has bought loss making Ariantec(Netx)  in year 2015 & trying its very best to turn Netx around.
At long last there is light at the end of the tunnel. 2 Very Favourable winds of fortune is now blowing in Netx's way
1) A RM21.6 Billions for Nationwide Fiberisation for all of Malaysia. Netx already stated in its Annual Report (page 5) that it is a specialist in Digital Infrar Installation
And you must know that Malaysia's Total Budget allocation for year 2020 is about Rm290 Billions (Majority are FIXED OPERATING EXPENDITURE) goes to Govt Servants Employees Salary (1.6 million strong), Retired Govt servants pensions & other fixed expenditure
After deduction only a mere Rm56 Billions (Only 19% left) of Rm290 Billions are for developments. And NFCP will take up Rm21.6 Billions (A Whopping 38% Goes into Nationwide Fiber Connectivity Program
Since MCMC Minister Gobind Singh has designated Fiber as a utility – Fibers will now be connected free of charge like water pipes & electricity lines to every home – be it city, town or kampung. The fiber lines are given free (sponsored and paid by Govt like in Singapore) Only charge for usage. This Massive Injection of Capital will Cause A Multi Year Bull run in stocks like Opcom, Redtone, Netx and others (Remember: It was Petronas Rm30 Billions for Upstream Capex that caused a Bull Run in OGSE Stocks. As success begets success now NCFP Stocks' turn to go into a Bull Run soon)
2) NETX fortunately, has another winning division. Loss making still like Gpacket in early days. Never mind. An increase of e-payment is coming
See
Trends: Digital payments in Southeast Asia expected to cross US$1 trillion by 2025
This article first appeared in Personal Wealth, The Edge Malaysia Weekly, on 
October 14, 2019
 – October 20, 2019.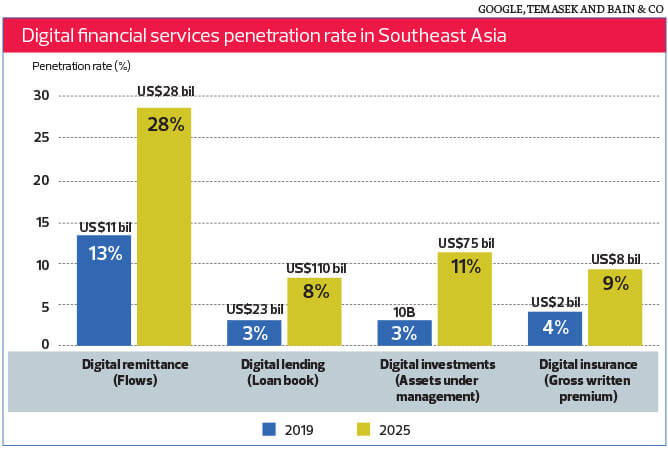 Digital payments are showing double-digit growth in Southeast Asia and are expected to cross the US$1 trillion (RM4.19 trillion) mark by 2025, almost double the US$600 billion this year. Digital is poised to be the payment method of choice for nearly one of every two dollars spent in the region, according to a report jointly published by Google, Temasek and Bain & Co on Oct 3.
Titled e-Conomy SEA 2019, the report says digital payments have reached an inflection point, where adoption and usage levels are surging in line with other internet economy sectors, such as ride-hailing and e-commerce. Digital payments are defined as cashless transactions that include cards, account-to-account transfers and e-wallets.
The five financial services identified in the report as ripe for transformation in the digital era are payments, remittance, lending, investment and insurance. Within the digital payment space, e-wallets are expected to exceed US$114 billion by 2025 — a fivefold growth from just over US$22 billion this year.
"Other financial services are still in a nascent digital stage, but the penetration rate is expected to increase two to threefold over the next five years. For example, digital lending, on track for a US$110 billion loan book by 2025, will be the largest volume contributor, spearheaded by innovations in consumer and small and medium business lending," says the report.
SO THERE ARE TWIN PRONGED GROWTH STRATEGIES FOR NETX
Question now is. Will NETX Follow the Success of GPacket whose share price has risen to over 70 Sen today? How far and how high will Netx share price be is yet to be seen.
At the time of writing Netx is only 2 sen. See if Netx will reach 8 sen first in One Year's time. (That will be a very spectacular gain of 300%)
No wonder Asiabio Bosses are investing so much into Netx
See how they bought
ASIABIO CAPITAL SDN BHD
23-Aug-2019

Acquired

19,000,000

0.000
FINTEC GLOBAL BERHAD
23-Aug-2019

Acquired

19,000,000

0.000
ASIABIO CAPITAL SDN BHD
22-Aug-2019

Acquired

15,000,000

0.000
FINTEC GLOBAL BERHAD
22-Aug-2019

Acquired

15,000,000

0.000
ASIABIO CAPITAL SDN BHD
15-Aug-2019

Acquired

12,000,000

0.000
FINTEC GLOBAL BERHAD
15-Aug-2019

Acquired

12,000,000

0.000
ASIABIO CAPITAL SDN BHD
13-Aug-2019

Acquired

20,000,000

0.000
FINTEC GLOBAL BERHAD
13-Aug-2019

Acquired

20,000,000

0.000
ASIABIO CAPITAL SDN BHD
09-Aug-2019

Acquired

9,000,000

0.000
FINTEC GLOBAL BERHAD
09-Aug-2019

Acquired

9,000,000

0.000
ASIABIO CAPITAL SDN BHD
08-Aug-2019

Acquired

8,000,000

0.000
FINTEC GLOBAL BERHAD
08-Aug-2019

Acquired

8,000,000

0.000
ASIABIO CAPITAL SDN BHD
07-Aug-2019

Acquired

10,000,000

0.000
FINTEC GLOBAL BERHAD
07-Aug-2019

Acquired

10,000,000

0.000
ASIABIO CAPITAL SDN. BHD.
06-Aug-2019

Acquired

10,000,000

0.000
FINTEC GLOBAL BERHAD (TOTAL PURCHASE 103 MILLION NETX SHARES)
06-Aug-2019

Acquired

10,000,000