3 Charts Tell All That Johor Landed Properties are Still Undervalue & With Great Potential to Go Up
CHART NO. 1 SHOWS HOUSE PRICE INDEX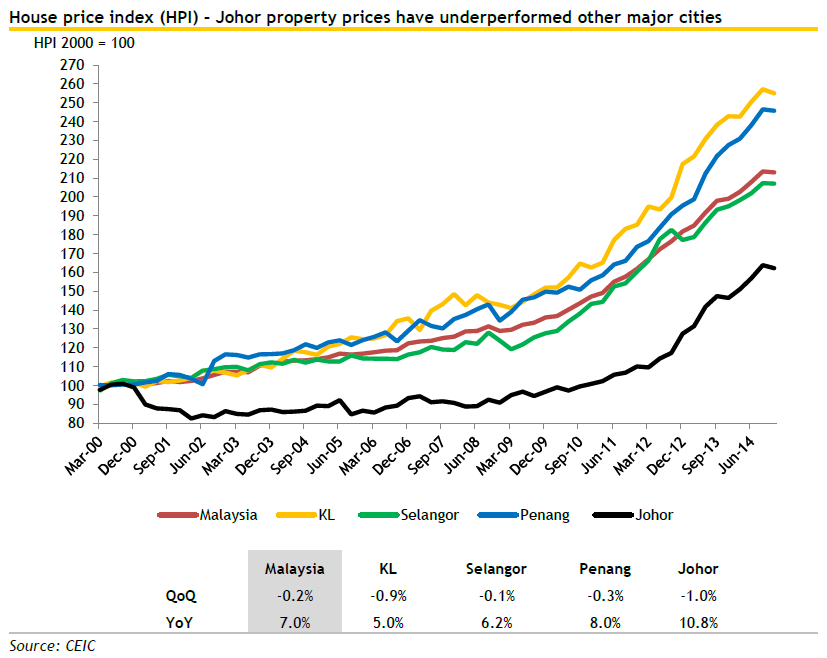 The House Price Index for Johor is the lowest at 150 points while Highest is KL at over 250.
This shows that Johor Properties are selling at 40% Discount to KL
2. CHART NUMBER 2 SHOWS FOREIGN DIRECT INVESTMENTS INTO JOHOR IS HIGHEST
In year 2014 FDI in Johor is Rm21.1 Billions versus KL at only a tiny weeny Rm49 Millions. Over Rm250 Billions FDI will Translate Into Multiplied Millions of New Jobs in Iskandar.  Shenzhen has only 300K population in year 1970. In 1980 when Shenzhen opened its doors for FDI it became the World's Factory drawing in Huge FDI which then created Jobs which in turn drew in 10 Million migrant workers from Sichuan & all over China to make Shenzhen the Top Growth Dynamic Zone. Same thing is repeated in Booming Iskandar.
3. CHART NUMBER 3 SHOWS GDP OF VARIOUS STATES
Again Johor took the Pole Position of 5.6%. KL is not even mentioned.
THESE STATISTICS SHOW THAT OVER A LONGER TERM JOHOR BEING SIGNIFICANTLY UNDERVALUE WITH THE HIGHEST FDI PLUS BIGGEST GDP GROWTH WILL PERFORM THE BEST AMONG ALL IN MALAYSIA.
Note:
THE BEST BUY IN JOHOR IS SINGLE STOREY & DOUBLE STOREY LANDED HOUSES AS OPPOSED TO HIGH END HIGH RISE CONDOS FOR THESE REASONS:
A new single storey house selling for Rm400,000 has a build in cost of Rm250,000 after factoring in high land prices, high cost of construction material & high wages. So the profit is Rm150,000 a unit. Which is 60% (rough estimate)
2. A Condo selling for Rm400,000 has a build in cost of Rm100,000. The only land cost is at ground level. All floors upward from level 2 to level 40 up to 50 are "free air space". So the profit is a huge 300%
3. A landed single storey house can only be built on limited land space whereas for Condos it can build upward 20, 30, 40 or even 50 stories. So just imagine selling 50 units instead of a single unit. So for these reasons almost all Developers in year 2011, 2012, 2013 & 2014 rush to build as many High End Condos as possible to maximise profits.
4. As a result of this Highly Lopsided Frenzied Building in Iskandar there is now a Huge Glut of High End Condos in Islkandar. On the other hand the last few 1 storey landed houses built by Keck Seng in Taman Daya & those in Taman Pelangi Indah were snapped up! Buyers queued for days and nights before Launch Date. And within first hour of Opening Sales all were completely sold. After that no more. You can only buy single storey houses from the secondary market as No One is building One Storey Houses near JB City anymore.
5. So there is now a Total Mismatch of what is being built & what is the Real Actual Demand. Condos are in horrible over supply!! While Landed One or Two Storey Houses below Rm400,000 are shockingly under supplied.
6. So expect Landed Houses between Rm250,000 to Rm400,00 to be in hot demand with prices firming up to Rm500,000 and above to match KL & Penang prices. While Condos in Horrendous Glut over Rm1 Millions to fall by 40% to 60%.
Is it possible for a High End Condo worth Rm1 milllions to fall by 60% to Rm400,00 in Iskandar?
Yes! A Condo selling for Rm1 Millions cost only Rm250,000 to build.  So even if it falls by 60% from Rm1 Millions to only Rm400,000 the Developer still stand to gain. Not so for all who bought at Rm1 Millions and suffer Rm600,000 equity loss in the coming down turn due to rampant glut. The only way to mop up all these Surplus Unsold, Untenanted High Rise Condos will be a drastic change of Policy to Attract More People to Live in Booming Iskandar.
SO THE VERDICT IS THIS:
SELL THOSE HIGH END HIGHLY PRICED CONDOS AND SWITCH TO LANDED HOUSES PRICED BETWEEN RM250,000 to RM400,000
DO IT FAST & DO IT NOW!
WARM REGARDS
Calvin Tan
Below is the Shenzhen Population Growth Chart
Shenzhen in 30 years grew from a population of 300,000 people to over 11 Million people. The fastest Growing Region in the World due to FDI